Full disclaimer: I adore Michelle Obama and this blog will never be a safe place to criticise her. (Yes I said it!). There is so much to say about this brilliant, smart and elegant woman but today will be about her fashion sense, which if you look closely also tells a clear story about who she is.
A lot has been said about her fashion choices and this is just my personal take on the subject. I did not like everything she wore in the early days. For instance, she went through a phase where she wore big belts over everything from cardigans to dresses and I did not think it enhanced her figure at all. But then she found her style just like she found her voice as a First Lady.
I loved the Narciso Rodriguez camel coordinated outfit that she wore the day before the first inauguration at the We Are One concert. But in my opinion, no one dressed her as beautifully as Naeem Khan. He just knew how to take her from beautiful to drop dead gorgeous.
My all-time favourite look of hers was the strapless dress she wore at her first state dinner in November 2009. She looked stunning! From the dress to her hair and makeup, her glowing skin, accessories and sculpted arms, everything was perfect. To me, this look sums up what fashion should be all about: the dress enhanced her beauty, flattered her curves while hugging her in all the right places and the colour made her skin tone pop. I love love love this look! Bravo Monsieur Khan!
Source: www.people.com
I follow Naeem Khan on Instagram and he seems to be quite a decent person himself. In this day and age, people who actually stand for something and defend their principles have my preference. It is not JUST clothes and nothing is JUST business. "I'm not a politician, I'm a fashion designer — but I do have a point of view and I do have loyalty"Khan previously told Elle. Can I hug you?
Back to fashion, here are other times where Naeem Khan dressed the former US First Lady.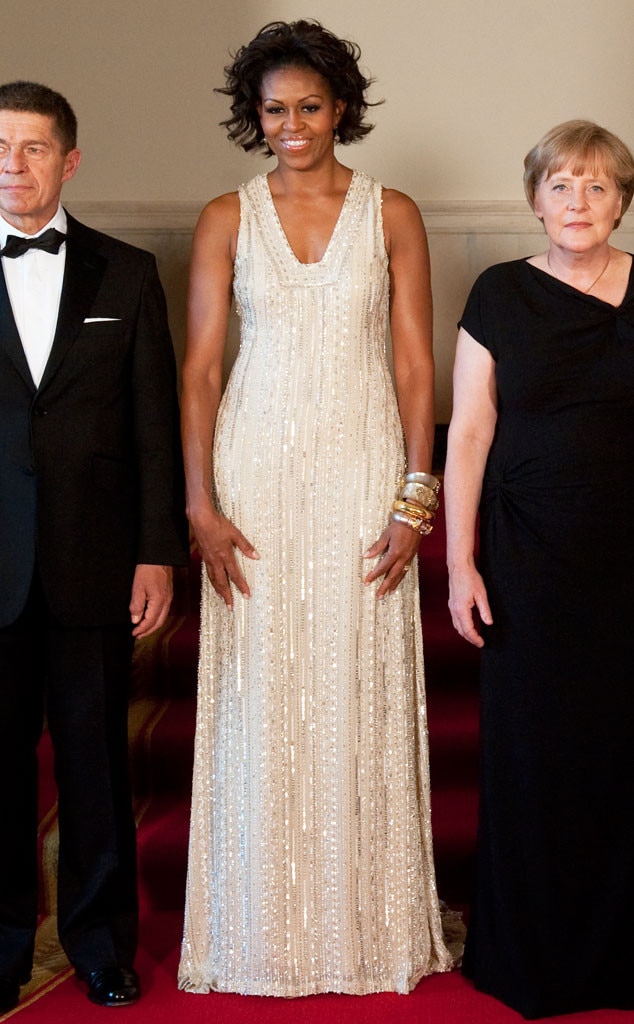 Source: http://www.eonline.com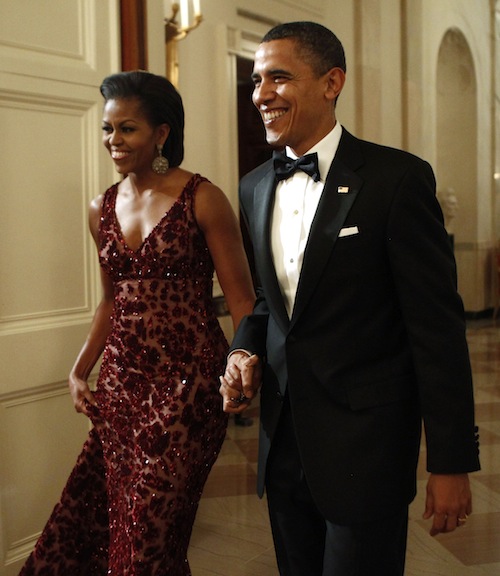 http://mrs-o.org
Source: www.thegloss.com
The talented designer also dressed Sasha and Malia Obama at a US State Dinner and they both looked amazing.
Love Naeem Khan.